Surge protection for telecommunications applications
The new CL-DSL - Reliable protection for VDSL2, VDSL, DSL, ISDN and analog terminals
A stable Internet connection has become even more important in recent times. Whether streaming or private and professional video conferencing from home - a failure of the Internet connection significantly affects our usual everyday life.

.

With the new CL-DSL, CITEL offers reliable protection of this important facility against the effects of transient surges and lightning events. Optimized for state-of-the-art transmission technology such as VDSL2 with (Super )Vectoring and VoIP, the CL-DSL offers all the technical prerequisites for the best possible protection of the connected terminal equipment.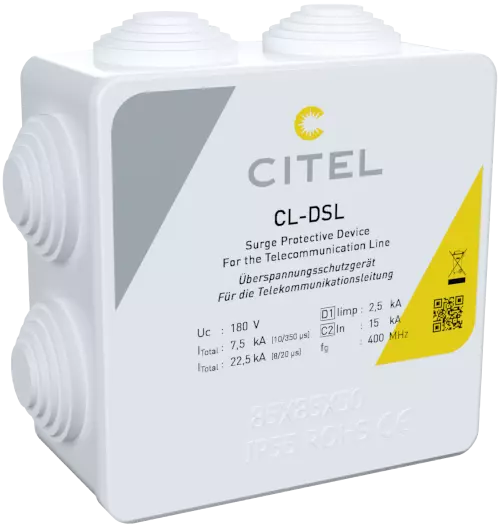 During the development of this protection device, special emphasis was placed on optimized frequency behavior with the highest possible cut-off frequency fg and simultaneously low insertion loss in order not to reduce the high transmission rates of modern DSL technology.

.

By meeting the requirements for test categories D1, C2 and C3, the CL-DSL can reliably dissipate pulses with high energy as well as with a fast rising edge and thus offers a low protection level with the highest dissipation capability. Therefore, the CL DSL is suitable for use in all installation locations. CITEL recommends installation as close as possible to the building entrance of the line to be protected.

.


CITEL thus remains true to its principle - "Innovative surge protection" - and supplements this with sensible service measures.

.