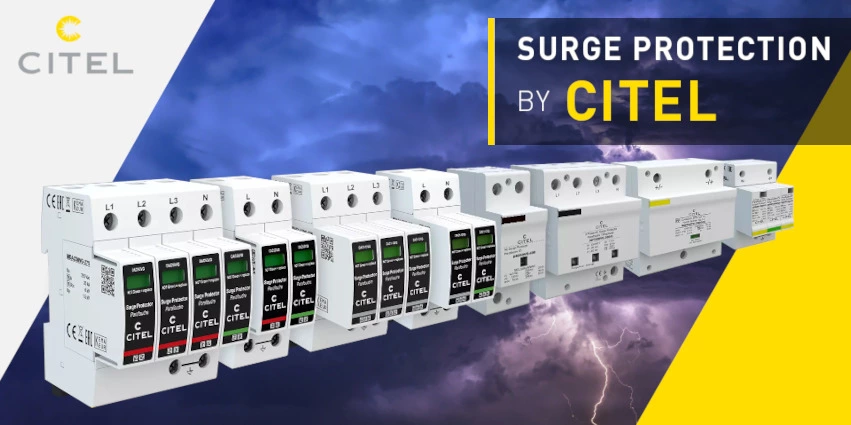 In order to limit surges generated by lightning to an acceptable level for equipment and installations, , the most efficient solution is setting up a protection device against these surges, called « SPD » (Surge Protective Devices) on AC power or communication networks of the installation to protect.
The CITEL Company proposes a complete range of surge protectors adapted to all the different types of networks and all configurations of installations.
For the AC power supply

The DAC and DS series of AC surge protection devices (SPD) are designed to meet all your surge protection requirements for any low-voltage installation. These surge protection devices (SPD) for DIN top-hat rails can be easily, quickly and safely installed in any distribution board or control cabinet. They are equipped with a thermal disconnect device and have real-time fault indications to ensure complete operational safety. These surge protection devices (SPDs) are available with multiple protection circuits to meet even the most demanding installations and standards. CITEL Overvoltage Protective Devices (SPDs) are available for all AC networks and applications.
For DC power supply and photovoltaics

Due to the constantly growing share of photovoltaic systems for energy generation, the question of plant and yield reliability is becoming increasingly important. In the planning phase of a PV system, attention should be paid to whether and which lightning or surge protection concept is required. But even where no lightning and surge protection is explicitly required, an appropriate protective device increases safety and system availability. With arresters of the DS60 and DS50 series, CITEL offers solutions for every conceivable protection concept and every system configuration.
For LED lighting systems

LED street lighting is a widely used technology today that stands for efficiency, energy cost savings and long life expectancy. Nevertheless, this attractive technology has a major weakness: its sensitivity to transient overvoltages generated by lightning or switching operations in the supply network. For this reason, it is essential to protect LED street lighting against these dangers. No matter for which application - protection class 1 or 2, single or multi-phase, with DALI or RS485 - CITEL always offers the right product for every case.
For communication and data networks

Communication and data networks are particularly sensitive technologies that place very high demands on operational safety and reliability. Networks are particularly at risk from overvoltages that can have a direct effect on data lines. Triggered by distant, near or direct lightning strikes, transient overvoltages can be coupled into the lines and electromagnetic fields, potential differences and lightning currents can form. These can ultimately cause interference that causes a complete system failure. This is where CITEL's surge protection devices (SPDs) come in - VDSL connections, Ethernet networks, communication systems or PLC systems - nothing remains unprotected.
For high frequency applications

Mobile and directional radio systems, satellite communication systems, generally all antenna-based communication systems are particularly at risk from lightning events. A direct lightning strike into the antenna inevitably results in the destruction of all systems connected to this antenna - if the complete system is not integrated into a lightning and surge protection concept! CITEL arresters are the first choice here - whether GSM/UMTS/LTE or 5G systems, TETRA band, WLAN transmission technology or IoT network technologies - the P8AX and PRC series from CITEL offer optimum protection for every application.