Newsletter
MLPC series product upgrade to protect LED lighting systems
CITEL starts the implementation of the popular MLP series in the design of the more compact MLPC version. Trimmed to the mechanical layout of the MLPC series, a universal mechanical mounting is possible. The housing now also accommodates the protective circuit of the separate communication line.
Thus, in addition to the power supply, the endangered data lines can also be effectively protected against overvoltages in a single housing. Besides the AC side, the protection of RS 485, DALI interface, 0 -10V control line or DMX data signal have been realised. A special version "MLPCH" with integrated decoupling is particularly user-friendly, because even when installed in close proximity to the LED driver of the luminaire, a properly functioning coordination between the arresters is always ensured.
A solution was also implemented for luminaires operated on 2 phases with neutral conductor, whereby all arresters comply with protection class I and have a screw terminal connection.
MLPC1-230L-V/DL
MLPCH-230-V/DL
MLPC1-230-V/2L
Surge protection type 2+3 for equipment of protection class I
Combined AC and data line protection for DALI, DMX, RS 485, 0 -10V
AC protection for 2 phases + N
Integrated decoupling choke
Compliant with IEC 61643-11 and IEC 61643-21
Compliant with IEC 61643-11
Replacement of the MLP1-230L-P/DL
and MLP1-230L-P/RS
Replacement of the MLP1-230L-V/2L
Availability on stock from the beginning of December 2020
- subject to prior sale -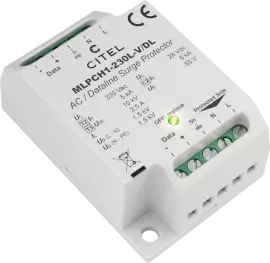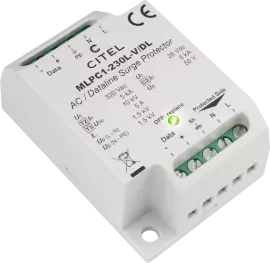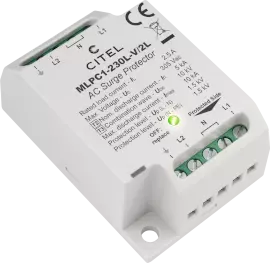 The protection modules of the CITEL arrester series MJ8 are now also available for infrastructures CAT 6a and are therefore compatible with 10 Gigabit networks. Furthermore, the arresters for Power over Ethernet are now also suitable for PoE++ technology. The powerful two-stage protection circuit of the MJ8 series is housed in a solid and robust aluminum housing, the connection is made via RJ 45 connector.
In combination with a special outdoor enclosure, an appropriate overvoltage protection can be realized even when used outdoors, taking into account the maximum protection class IP66.
Product
(Art.Nr.)
Product image
Cat6a
PoE++
Indoor
application
Outdoor
application
MJ8-C6A
(581540)
MJ8-POE-C6A
(581541)
CRMJ8-POE-C6A
(581542)
Availability on stock - subject to prior sale -