NEWSLETTER
aquaTurm in Radolfzell on Lake Constance First zero-energy high-rise with CITEL surge protection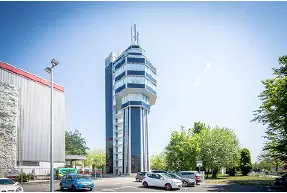 The review
It all started when Norman Räffle came to the second Christmas Day 1998, the old water tower in Radolfzell on Lake Constance came to our attention. Still at the same In the evening father and son looked at the condition of the building.

The concept for the aquaTurm changed from a pure view café over a restaurant, an office and residential buildings up to the design hotel with a view over the Lake Constance, one of the most beautiful areas of Germany. During the planning period it was decided the tower of the world's first zero-energy high-rise to design.

In eight years of construction time, a lot of own work was done in different trades like civil engineering, demolition, carcass and facades the construction progress is rapidly advanced.

Electrical engineering
During the electrical work the company ELBAG from Stockach was in the boat or in the tower. The managing director, Frank Gora, managed the project itself and supervised the construction the distribution cabinets, which are the heart of the electrical Form power distribution. They also contain all safety-relevant components for the first zero-energy high-rise building worldwide.

We at CITEL supplied the products for protection against lightning and overvoltages.

The lightning and surge protection
As a central protection was developed by the company ELBAG in Feeding one lightning current combined lightning current arrester (type 1+2+3) DS134VGS-230 from the company CITEL. Additionally, coordinated "Type 2" DS44-230 surge protection devices were installed in the sub-distribution boards.

The DS130VG series with 12.5 kA discharge capacity per pole is a space-saving and inexpensive solution for buildings of Lightning protection classes III+IV and fulfils the minimum requirements for type 1 lightning arresters according to VDE 0100-534 The DS130VGS combines the integrated CITEL VG technology as combined arrester type 1+2+3 all three protection classes in a device and thus offers a very good protection against overvoltages for the downstream system. The DS130VG also complies with the VDN guideline and can therefore can be inserted in the pre-counter area into the feed-in. The DS130VG series is therefore ideally suited for installation in for private and commercial buildings.

The surge protection devices of the DS40x series are as a type 2 arrester due to its surge current discharge capacity and are mainly used in sub-distributions of electrical systems.

The protection circuit of the DS40x series consists of a Combination of high power varistors with a thermal break device, fault indication and optional with remote signalling. The DS40x series is designed for electrical Systems with a wide range of operating voltages and network forms available and for top hat rail mounting suitable. The pluggable protection module allows quick and uncomplicated replacement in the event of a fault.

We attach great importance to comprehensive support for planning offices and installation companies. The technically experienced Together with the processors, technical advisors seek the technically optimal solution for the user, of course from a commercial point of view. aquaTurm in Radolfzell on Lake Constance First zero-energy high-rise building with CITEL surge protection


Download flyer