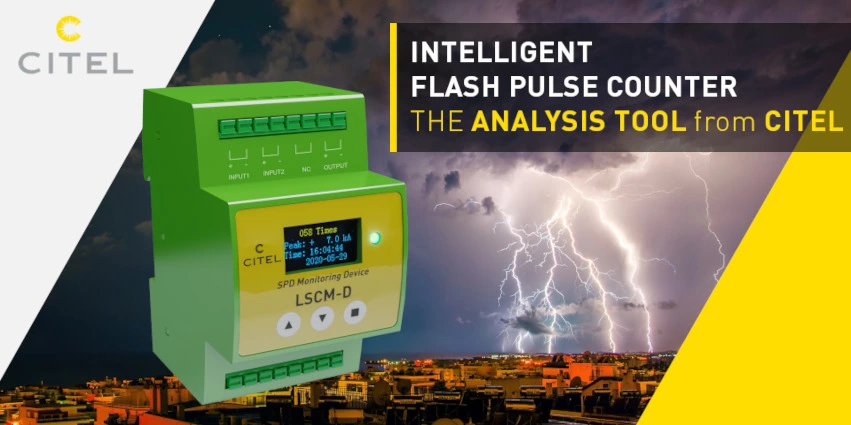 INTELLIGENT FLASH PULSE COUNTER
The ideal analysis tool for lightning and surge protection
With the LSCM-D lightning pulse counter, we at CITEL offer the optimal analysis tool for logging lightning strikes. Thus, the operator of a system immediately has the exact information about the time and the intensity of the incident. Based on this data, measures can be initiated immediately.

A high-contrast, plain-text OLED display ensures a clear and easy-to-read display, even in poor lighting conditions.

The unit is preferably installed in the connection compartment (AAR) of the meter cabinet on the system side. The unit is designed for 35 mm top-hat rail mounting. The installation and connection are very user-friendly.

Inputs, e.g. for detecting a tripped external back-up fuse and/or for evaluating the SPD remote signalling
contact, complete the scope of equipment in addition to the obligatory connection of the sensor (measurement transducer).

At the output, it is possible to connect acoustic as well as optical signal transmitters that report the incident acoustically or optically.

The lightning current events and any surges that occur are recorded to the minute with a date and time stamp. There is also the option of remote transmission via Modbus RS 485, e.g. to transmit the data to a control centre. The unit complies with Part 6 of DIN EN IEC 62561 (requirements for lightning meters).

With this device we offer a universal analysis tool that informs about lightning current events and thus gives the possibility to react accordingly.
---
Innovative, practical and standard-compliant
---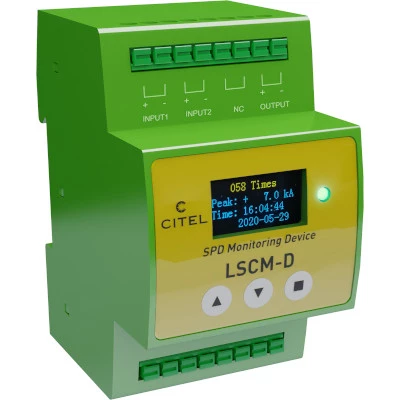 Characteristic features:
OLED Display

Storage of flash current polarity (+/-) and peak value with time stamp

Coverage:
1 kA – 100 kA (8/20 μs) / 1 kA – 50 kA (10/350 μs)

Transmission via RS485 (Modbus)

Monitoring features (2 inputs, 1 output)

DIN 35mm top-hat rail mounting (form factor of our arresters)

Compliance with IEC 62561 (standardised test for lightning current meters)

Integrated rechargeable battery to maintain function and support data in case of power failure